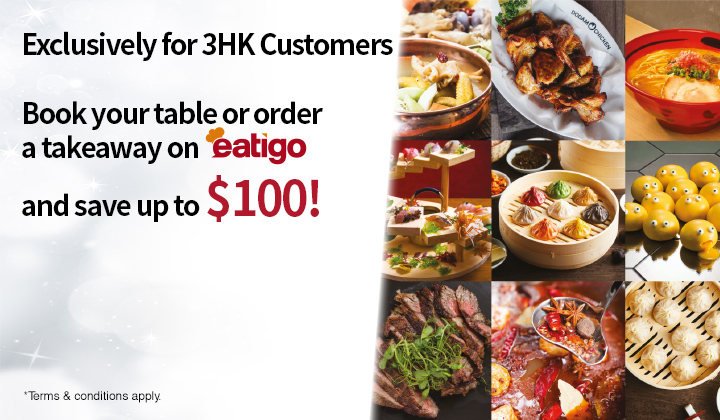 From now until 22 May 2020, 3HK Monthly Subscription customers can save extra $25 on top of the up to 50% discounts when booking on eatigo with below promo code! Applicable to 1000+ restaurants! Up to 4-time usages per user & limited to the first 1000 users.
---
---
Terms and Conditions:
Promotion starts from 22 Apr 2020 to 22 May 2020.
eatigo cash vouchers may not be exchanged for cash. eatigo cash vouchers can only be used as a fixed value discount off the bill for eatigo reservations.
. eatigo cash vouchers can only be used at Hong Kong restaurant merchants that have agreed to accept eatigo cash vouchers (with a yellow gift box icon). Restaurants without yellow gift box icon will not be reservable with the eatigo cash voucher promo code.
eatigo cash voucher is considered used and is non-refundable if the promo code has been applied and the customer did not cancel the booking in advance or show up at the restaurant.
Restaurants will not provide cash refunds when the eatigo cash voucher amount is more than the restaurant bill.
eatigo cash voucher may have special conditions required for the customer prior to payment i.e. certain credit card payment type or membership identification proof. Restaurant partners reserve the right to validate and reject the eatigo cash voucher if conditions are not met.
Similar to the standard eatigo discount, eatigo cash vouchers do not stack on top of any other restaurant promotions or 3rd party promotions.
Each reservation must be attended by at least TWO persons to use the eatigo cash voucher.
eatigo reserves the right to amend and terminate the eatigo cash voucher program at any time.